April 12, 2012
Global Reef Expedition
COLOMBIA REEF EXPEDITON
Abril 11
Last night, when most of expedition team arrived, the crew had the Golden Shadow anchored just off Jamaica's Port Royal, at the mouth of Kingston Harbor. In the 16th and 17th centuries that was a pirate hotspot, but an earthquake submerged much of the town in 1692. Some historic remnants remain, but there was no time for sightseeing.
Everybody was onboard by sunset and we headed south at about 10 p.m. We couldn't have asked for better conditions. Skies are clear, seas are flat calm, and forecasts say it should stay like this for at least a few days.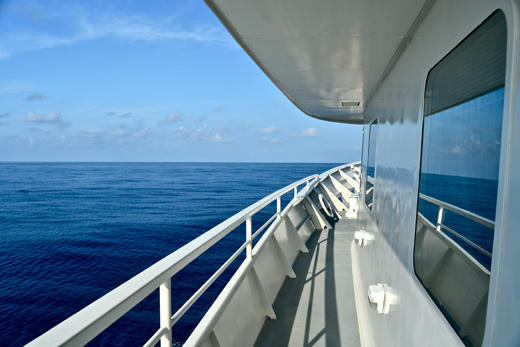 We've now traveled about 260 kilometers southwest of Kingston to a spot called Alice Shoal, which is jointly controlled by Jamaica and Colombia as part of a Joint Regime Zone. This is the northern tip of the San Andres Archipelago, a ring of reefs and tiny islets that stretches from where we are anchored to the inhabited island of San Andres, Colombia, roughly 400 kilometers southwest.
The Golden Shadow is situated in water so clear that we could see a stingray on the bottom today 35 meters below the surface. There's a reef line a couple of kilometers from here, but nothing breaks the surface.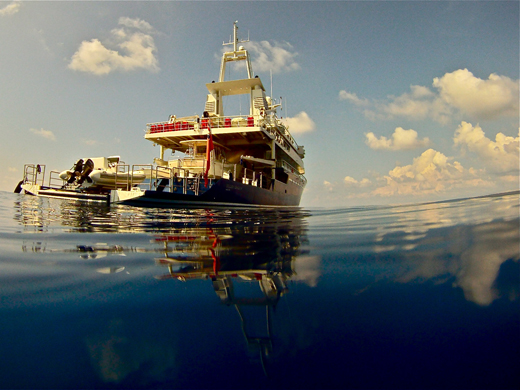 On this expedition, we'll be exploring what are probably the most remote reaches of the Caribbean. There's one light in the distance now, but we didn't see any other boats all day. As we make our way around, we'll be curious to learn how many fishermen manage to make the long journey here from Colombian islands, Nicaragua or Jamaica.
We started the day with a scuba orientation then moved on to preparations for what we hope will be a productive day of diving tomorrow. The members of the science team will be splitting into groups and heading in different directions aboard smaller boats. We'll have people mapping the reefs, studying the conchs found in shallower waters, identifying and counting fish, and running detailed surveys of the corals.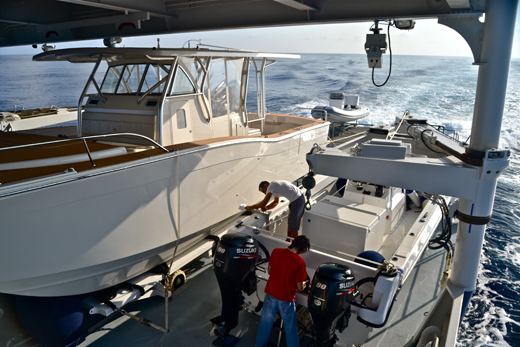 There is so little information available about this region that there's no telling what we'll find during the numerous hours we'll be spending underwater. Check back each day for the next two weeks and we'll let you know.
Written by Mark Schrope
(Photos/Images by: Mark Schrope)
To follow along and see more photos, please visit us on Facebook! You can also follow the expedition on our Global Reef Expedition page, where there is more information about our research and team members.
COLOMBIA SCIENCE TEAM http://www.globalreefexpedition.org/index.php?option=com_content&view=article&id=296&Itemid=789
Felipe Cabeza estan participando en la Expedicion que se llava a cabo por la Organizacion Ocean Living Foundation en
COLOMBIA